SPS (The Scottish Prison Service) in conjunction with the n-ergy team in Scotland are delighted to be named Winner of the 2014/15 GO (Government Opportunities) Procurement Innovation or Initiative of the Year award.
The Winners and Highly Commended entrants for the GO Excellence in Public Procurement Awards Scotland 2014/15 were announced at a glittering black tie ceremony in Glasgow on 21 October 2014.

Scott Stone, Job Preparation and Talent Manager, n-ergy Scotland who attended the Awards ceremony said,
"As the n-ergy representative on the night, I was very honoured to be asked to collect the award on behalf of SPS (The Scottish Prison Service).  The awards were hosted by Catriona Shearer from BBC News Scotland and it was a great pleasure to receive the award in recognition of the employability partnership between ourselves and SPS in setting up and running our recruitment centre within HMP & YOI Grampian.This award received nine nominations in total with fierce completion from some very worthy organisations."
Andy Door of the Scottish Prison Service said,
"This award is great recognition for the teamwork and the effort that's been put in to do something real. We'll take this model developed, in conjunction with n-ergy, and help apply it across the prison service."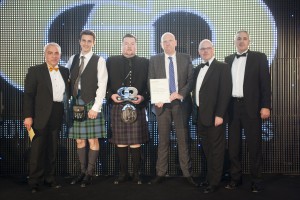 (left to right: Award sponsor – Tracker Representative, Andy Door – SPS, Scott Stone Job Preparation and Talent Manager, n-ergy and George Peden, David Wares, Steve Barrett – SPS.)
GO (Government Opportunities) (www.govopps.co.uk) runs the GO Excellence in Public Procurement Awards annually, showcasing the very best that public sector procurement has to offer.
All entries were recently reviewed by a panel of eight judges made up of experts in Scottish and UK procurement including Alastair Merrill, Director, Procurement and Commercial, at the Scottish Government and John F. McClelland CBE, author of The McClelland Report, a review of public sector procurement in Scotland.
Grahame Steed, Managing Editor of GO and Lead Judge, said of the Awards:
"The Go Awards demonstrated again just how much the quality of procurement has improved in Scotland over the years. What was once seen as a pioneering initiative a few years ago, is now industry standard across the sector.
I always say that reaching finalist status is a fantastic achievement itself, but this year organisations had to really raise their game to reach that status and the Winners and Highly commended have raised the benchmark yet again. Well done!"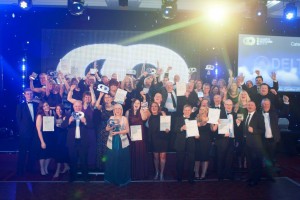 n-ergy's aim is to develop the employability skills for those who work within our enterprise unit and permanent employment for the offenders at HMP & YOI Grampian on their release into the local community.   All profits generated through the enterprise facility will be re-invested in to n-ergy's work with offenders and ex-offenders.