As a responsible business, our company aim is to support charities and community projects which are key to the local communities in the regions where we have a regional presence in England and Wales.
In 2018/19, n-ergy proudly supports its Charity of the Year, Tenovus Cancer Care and the amazing work it carries out in the local community including a number of innovative projects ie. a mobile support unit, 15 choirs across Wales, a free support line (0808 808 1010) open 365 days of the year and the charity's cancer research to support them to find new ways to prevent, diagnose and treat cancer.  Our Charity of the Year was chosen by our Head Office and Wales regional teams.
Our business donates corporate monthly contributions to its chosen Charity of the Year which is reviewed annually. In addition, our Head Office and regional teams organise a number of fundraising activities of their own either "in the office" or in their personal time to support with further fundraising.
What's planned in 2018?
Penyfantimes5Challenge – September 2018
Our senior management team, Ashley Thomas and Sarah O'Mahoney are planning to climb Pen-y-fan five times in one day, sunrise to sunset on Sunday, 16th September 2018! The training has already started but to find out more please visit our news page with the latest update.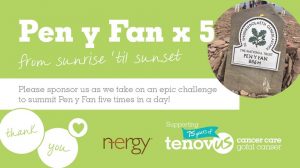 Plans are now underway for more fundraising activities to take place in 2018/19 for our Charity of the Year!
£100 raised from Dress-Down Day and Best Mountain Themed Cake Competition on 22nd August 2018
We love a cake-bake in the office so it made sense for us to combine this with a Dress-down day to support Ash and Sarah with raising more sponsorship monies for the Penyfantimes5 Challenge in September. One of our assessors, Neil Moriarty was our champion baker this time with his amazing Penyfan cake! Thanks to everyone who got involved, it was a great day for raises monies and eating cake!
Our Regional support 2016 – 2018
Over a two period our charity policy supported two Charities of the Year, Tenovus Cancer Care and Devon Air Ambulance. Here are a few momentos of some of the fundraising activities undertaken during this period at Head Office and/or at our regional team meetings.  To learn more about our colleagues who have individually raised monies for our regionally chosen charities over the last few years, please visit n-ergy's Twitter account @nergygroup.
Tenovus Cancer Care (Spring 2018)
On Monday, 12th March we held our Really Welsh Bake-off with Chief Executive, Donna Turner-Kot doing the judging! here is how it all panned out: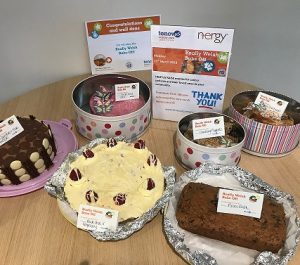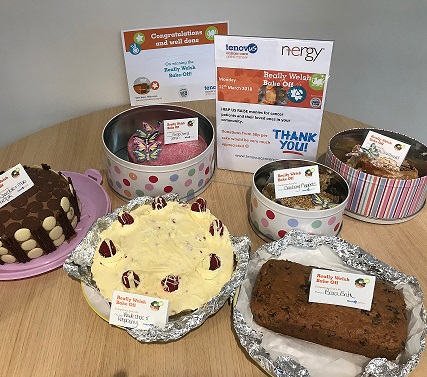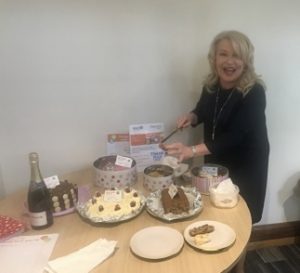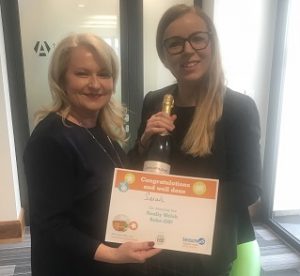 Devon Air Ambulance
(chosen by our South West Region)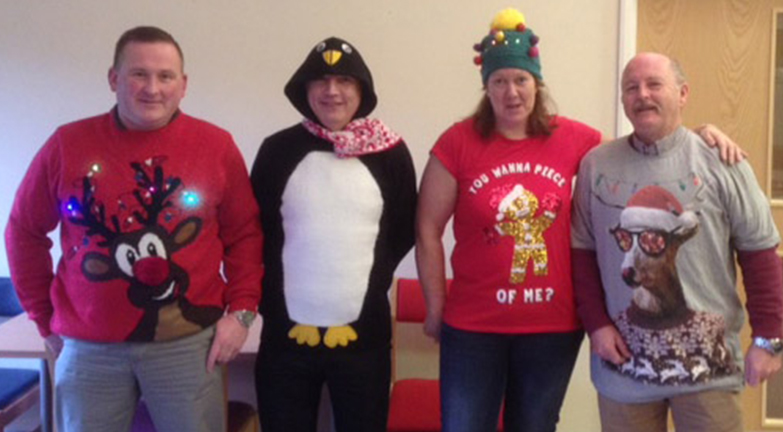 In the Autumn 2016, Tracy Owen, Fundraising Manager met with the South West team at their monthly team meeting. Wendy Doodson at n-ergy said, "The session was very interesting and a real eye opener for the team in respect of the awesome work that DAA are doing."
The South West team has since kick-started their fundraising with their Christmas Jumper Day (see photo opposite) and plans are underway for more regional fundraising!"
Tenovus Cancer Care
(chosen by our Wales & Head Office team)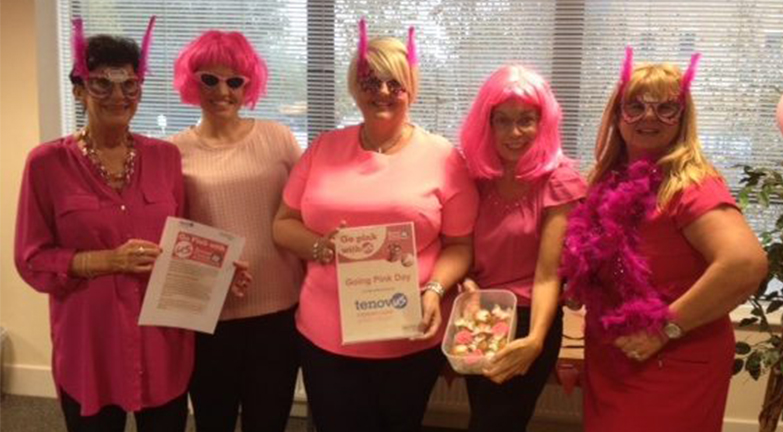 When the Tenovus Cancer Care, Fundraising Manager met with the marketing team in the summer she brought along an excellent fundraising pack which was full of good ideas and posters.
As a result, Head Office and the Wales team were able to get their fundraising "off the starting blocks" with a Going for Gold Olympics Sweepstake in August, followed by a Go Pink day for Breast Awareness in October 2016 (see above photo) and Jolly Christmas Jumper Day in December.
n-ergy is a firm supporter of charitable causes and has also given corporate support to Kidney Research UK [2011- 2016] and Meningitis Now [2016-17].