As a responsible business, our company aim is to support charities and community projects which are key to the local communities in the regions where we have a regional presence in England and Wales.
In 2019, n-ergy proudly supports its Charity of the Year, City Hospice which was chosen by our Head Office and Regional Team.
City Hospice delivers community palliative care across the City of Cardiff and range in age from 18 upwards. The City Hospice team cares for patients who live in Cardiff,  managing their symptoms and offering essential support. Referrals are made from the palliative care team at Velindre Cancer Centre, the University Hospital of Wales, or from a patient's own GP. City Hospice helps patients with diagnoses such as Cancer, Dementia, Motor Neurone Disease (MND), Chronic Obstructive Pulmonary Disease (COPD) or other life-limiting illnesses.
Our business donates corporate monthly contributions to its chosen Charity of the Year which is reviewed annually and this year, n-ergy is taking on the charity's Platinum Pledge which is a company commitment to raise a minimum of £1k over the next 12 months.
Our Regional Support 2019-20
At n-ergy, our employees often get involved with fundraising activities of their own either "in the office" or in their personal time to support with further fundraising for Charity of the Year!  Here are our latest fundraising activities for City Hospice.
November 2019 – Movember Challenge
Thanks to all our team members who took part in the Movember Challenge over the month of November! Congratulations to our winner "Andy", who won our company competition for the best moustache and has won a voucher for a discounted visit to a local barbers for their efforts. We are thrilled that our collective effort has raised £519 in sponsorship monies from this Challenge!

(left to right: Andy (our winner), Karnail, Mervyn, Neil and Simon)
Autumn 2019 – City Hospice Sparkle Walk
Our fundraising started with one of our colleagues, Trudy Wheeler, Marketing Manager together with her daughter Bethan, participating in the nighttime 10k Memory Walk on Saturday, 21st September that took place in Cardiff.
The 10k route started in the grounds of Cardiff's iconic, Insole Court in Llandaff, then a walk through Llandaff and into Whitchurch where everyone stopped to visit City Hospice offices.  Here, participants had the opportunity to leave a message for their loved one in the special Memory Garden before heading back to Insole court.  A total of £211 was raised!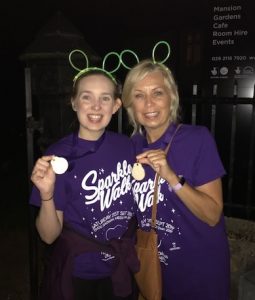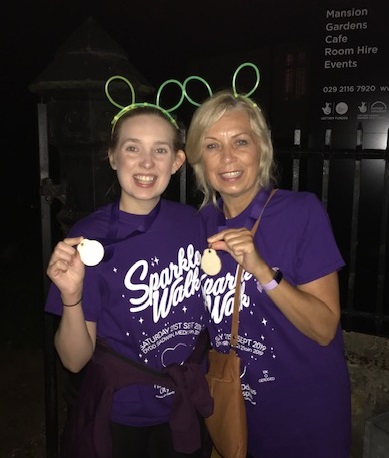 Our Charity & Community Support [2012 – 2019]
As a firm supporter of charitable causes, n-ergy has also given corporate support previously to Kidney Research UK [2011- 2016], Meningitis Now [2016-17], PRIME Cymru [2013-16], Devon Air Ambulance (DAA) [2016 – 2018] and Tenovus Cancer Care [2016-2019] in addition to n-ergy employees also raising monies for these charities.
To learn more about our colleagues who have individually raised monies for our regionally chosen charities over the last few years, please visit
n-ergy's Twitter account @nergygroup!
Here a few momentos from our fundraising activities previously!