About PRIME Cymru

As a firm supporter of third sector, social enterprise and charitable causes, n-ergy is a proud supporter of PRIME Cymru, a registered charity which supports individuals aged 50 and above back in to employment and self- employment.
PRIME Cymru was established in 2001 and is the brainchild of HRH The Prince of Wales. Its purpose is to provide professional support and guidance to people aged 50 and over who wish to become economically and socially active.
Our Involvement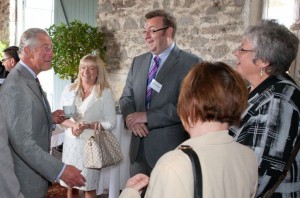 The work of PRIME Cymru aligns perfectly with our mission statement  "To create exceptional learning and development opportunities that empower people and organisations to achieve their goals and aspirations."
The objectives and values of PRIME are closely aligned to those of n-ergy. Strategically, it is n-ergy's aim to work with PRIME Cymru to develop a joint programme to support our clients aged 50 and above in custody. The employees of PRIME are exceptionally positive individuals who are keen to support our work and us theirs.

Our Support
In July 2015, n-ergy sponsored the inaugural PRIME Cymru Awards Ceremony taking place in Nanteos Mansion, Aberystwyth.
Over 80 people / businesses attended the awards ceremony organised by David Pugh, Chief Executive and his operational team at PRIME Cymru which celebrated the achievements of people aged over 50 in Wales and also recognised the support of mentor volunteers / organisations who give their time freely and generously to PRIME Cymru.
There were four award categories in total – New Business; Growth Business; Green Business & Mentor of the Year. Teg Bevan, an aviation expert and long time business man from Bridgend, who has been a mentor for 7 years, was one of the winners and presented with his award by HRH Prince Charles at this event.
Donna Turner-Kot, Chief Executive said, "As a proud patron of PRIME Cymru (*), I am delighted that my company sponsored the inaugural PRIME Cymru Awards. One of the reasons why n-ergy sponsored the 2015 PRIME Cymru Awards is that I believe n-ergy and Prime Cymru have a shared aim to help people in the Principality to gain new skills to support their journey back into employment, whether it's people with convictions or aged 50 and over".
(*) 2013-2016
To view full coverage of the awards ceremony on www.primecymru.co.uk, please click here.