Congratulations to Jen Jones on her 10 year service award with n-ergy
Jen started with n-ergy on the 24th September 2007, n-ergy's very first assessor. 4 years later, Jen achieved a promotion and became Internal Verifier for the company. Jen's role has evolved over the latter years and Jen now also supports the ISO function and monthly Compliance Audits and is a valued member of the n-ergy Quality & Compliance team headed up by Sarah O'Mahoney, Performance Manager – Central Services.
Donna Turner-Kot, Chief Executive said, "I am sure you all would join me in wishing Jen a huge congratulations for her 10 year service award".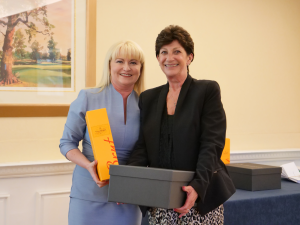 Employees at n-ergy benefit from Length of service loyalty awards after one year, 5 years and 10 years; therefore, in addition to an 10th birthday anniverary gift presented at the 10th birthday Celebrations Day back in July, Jen has also received a monetary gift from n-ergy in recognition for her 10 year service and by all accounts, we understand has been duly spent!
It has been a year of celebrations at n-ergy with a significant number of employees reaching their 5 year milestone or above working for n-ergy. Those employees who have given 5 years service have also received a monetary gift and now benefit from 5 days additional holiday leave in addition to their birthday day-off after 1 year's service with our company.