n-ergy's Chief Executive, Donna Turner-Kot has been awarded the inaugural title of Corporate Responsibility Director of the Year at the IoD Wales Director of the Year Awards.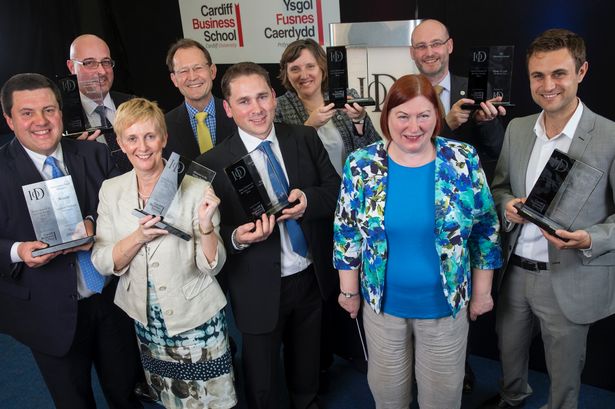 IoD – Wales Director of the Year Awards, 2014, SWALEC Stadium Cardiff. Back Row – Steve Hicks Group Director of n-ergy; Simon Walker Director General IoD; Penny Brockman, Mountain Rescue Newport; Shane Bissett, The Royal Mint. Front Row, Andrew Diplock, UES Energy; Judith Paget, Aneurin Bevan Health Board, Newport; Endaf Edwards, Princes Gate Spring Water, Narberth; Minister Edwina Hart, James Taylor, SuperStars. Photo by Huw John
Donna, together with the best directors in Welsh business were honoured at the awards lunch held at the SWALEC Stadium, Cardiff on Friday, 16th May.
This was the fourth year these Welsh awards have been held recognising leadership in Wales. (www.iod.com)
IoD Wales director Robert Lloyd Griffiths said,
"Our Director of the Year Awards are a flagship event within the Welsh business calendar and I look forward to the celebration more each year.
It is great to have the opportunity to honour top business people from across Wales, where so many innovative and thriving businesses are based and I am delighted that we were once again able to promote excellence in business leadership in Wales."
Everyone at n-ergy offer their congratulations to Donna for her achievement in winning this award!