We would like to take this opportunity to personally thank all of our candidates, who have written into our company about their personal journey back into sustainable employment and in their words, what it means to them – we really do appreciate it!
We publish as many thank you letters and personal statements as we possibly can on our company website. Everyone deserves a second chance and here are some of our latest success stories: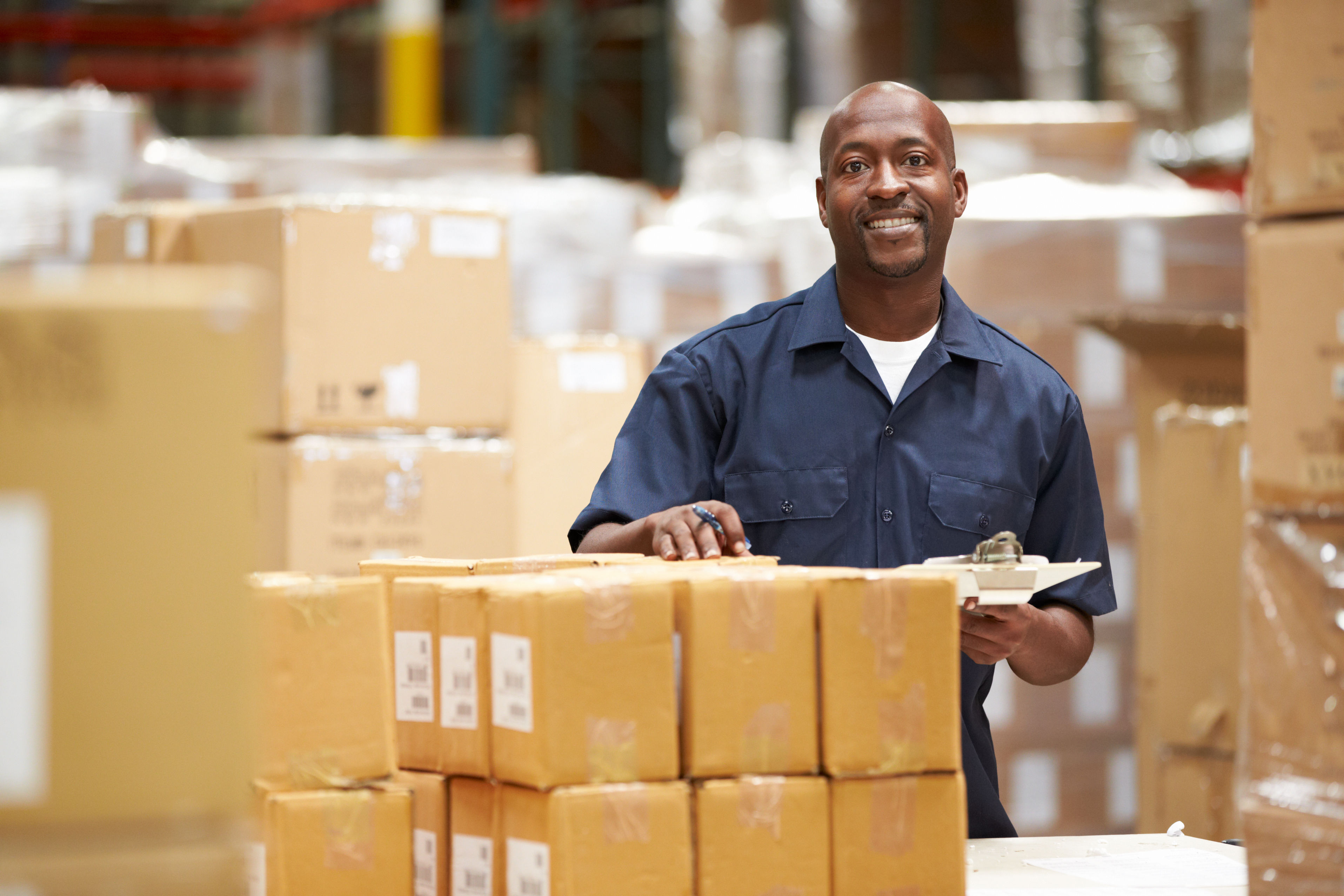 "Gareth" – When Gareth was released from a Cat D prison in the Gloucestershire area, it wasn't the first time he had been inside. This last time was very different for him; he realised he needed to sort his life out, not just for him but also for his children.
This time Gareth wanted to make a change. Whilst in custody, he enrolled with n-ergy and gained a QCF/NVQ in Warehouse and Storage and it was this qualification that helped him secure his first job on release as a Warehouse Operative in South Wales.
When Gareth was in his last 3 months of his sentence he met with an n-ergy employability consultant. They talked about work opportunities on the outside, the type of job roles he would be best suited applying for and the work that Gareth wanted to do since retraining in prison. Here is what he has to say:
"My n-ergy consultant has been a massive help to me. Right from the beginning he has supported me with finding a job quickly on release and when the first job finished due to the contract coming to an end, my consultant continued to support me and help me look for and find regular work. I have been working now, full time for quite a while, in a few job roles some in construction and more recently working in hotels doing re-fits which is well-paid.
My life is now more stable and I am able to be a proper father and am earning money that means I don't have to break the law anymore. n-ergy helped me change the path I was on. They helped me get to where I am now. Working and staying as far away from prison as possible!" [released from a South West Prison in August 2015]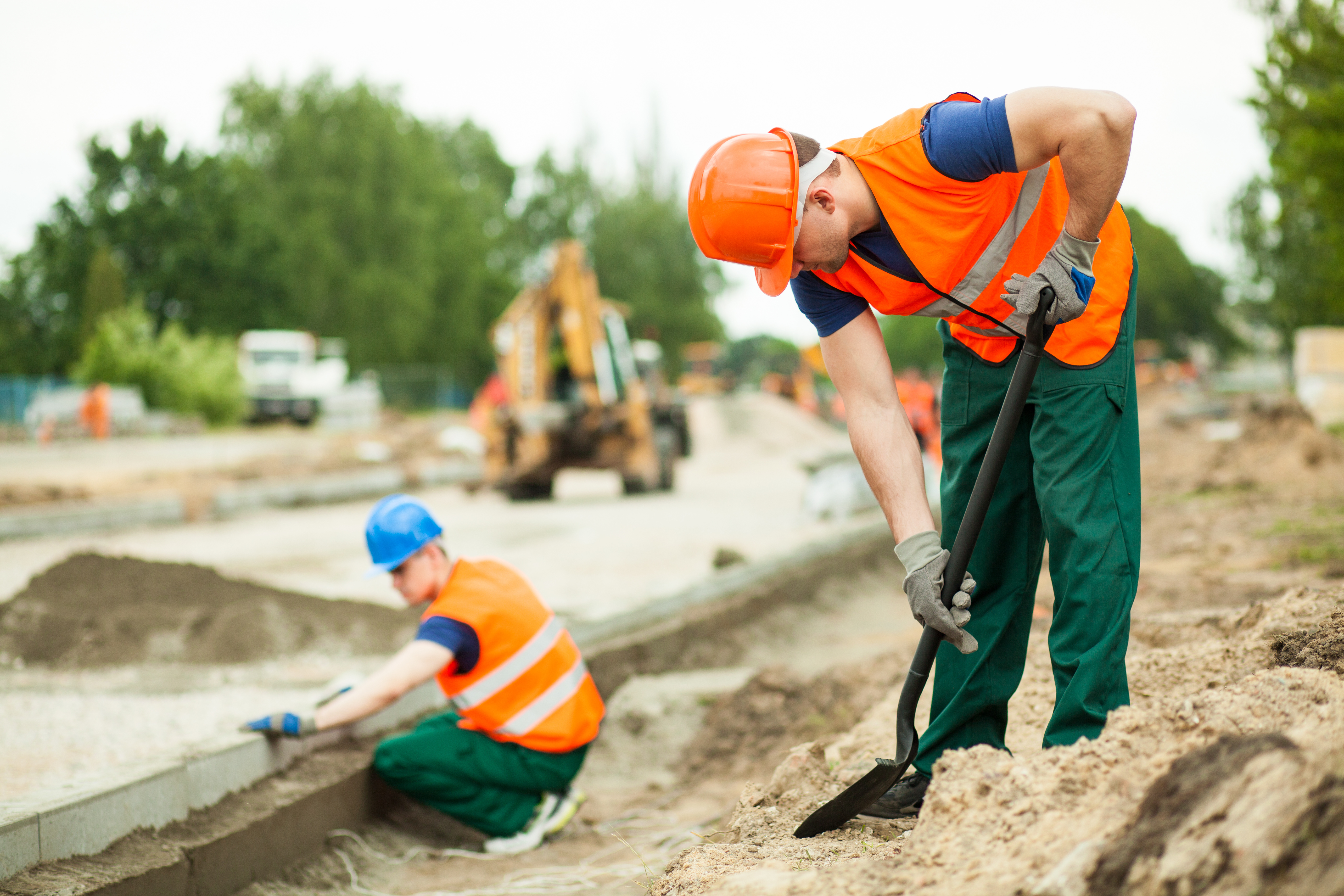 "James" – met with an n-ergy consultant in a welsh prison a week before his release date who helped him with producing a CV. James had been a little hesitant to register with n-ergy as this wasn't his first time in prison and James was sceptical about anyone being able to help him!
On the day of his release, James gave the n-ergy consultant a call and the consultant sent off his CV to potential employers. After only one day of contacting n-ergy, James was placed into full-time work as a CSCS Labourer. James was thrilled when he then had the opportunity of shift work paying £150.00 per night on a construction site in South Wales. Here is what James has to say:
"The last time I was in prison was not the first time for me. I had been in and out a few times which was usually for shoplifting and theft and so I was only there for a couple of months each time. The last time I was doing 12 weeks for shoplifting and again, in my head, it was going to be the last time I went to prison.
During my last few weeks I went to Resettlement in the prison. They told me about n-ergy and how they help guys in prison to find a real job once they get out.
I met the consultant from n-ergy with a few of the other guys and he went through what n-ergy are about and how they try to help people when they leave custody. I wasn't going to go to the session but I did and I actually walked away feeling very happy and confident that they would actually help me when I got out. We done a CV template there and then and it's the first CV I have had in years. The consultant from n-ergy went through it bit by bit and gave us all the tips along the way to make our CV stand out.
I got out a couple of weeks later. I called a few agencies for CSCS Labourer work but they all said there was nothing going at the minute. I remembered n-ergy and gave them a call. The same consultant I saw in prison was there and straight away made some calls and sent my CV off to a few employers. That same day I was released from prison I had a call and ended up going to work the very next day. I've been out of prison for about 2 weeks now and have been working the entire time thanks to n-ergy.  
It's nice to actually get help and I would definitely say if you want to work when you get out of prison then you need to go and see the employment consultants at n-ergy whilst you are still in prison. They help you before and after your release." [testimonial received August' 15]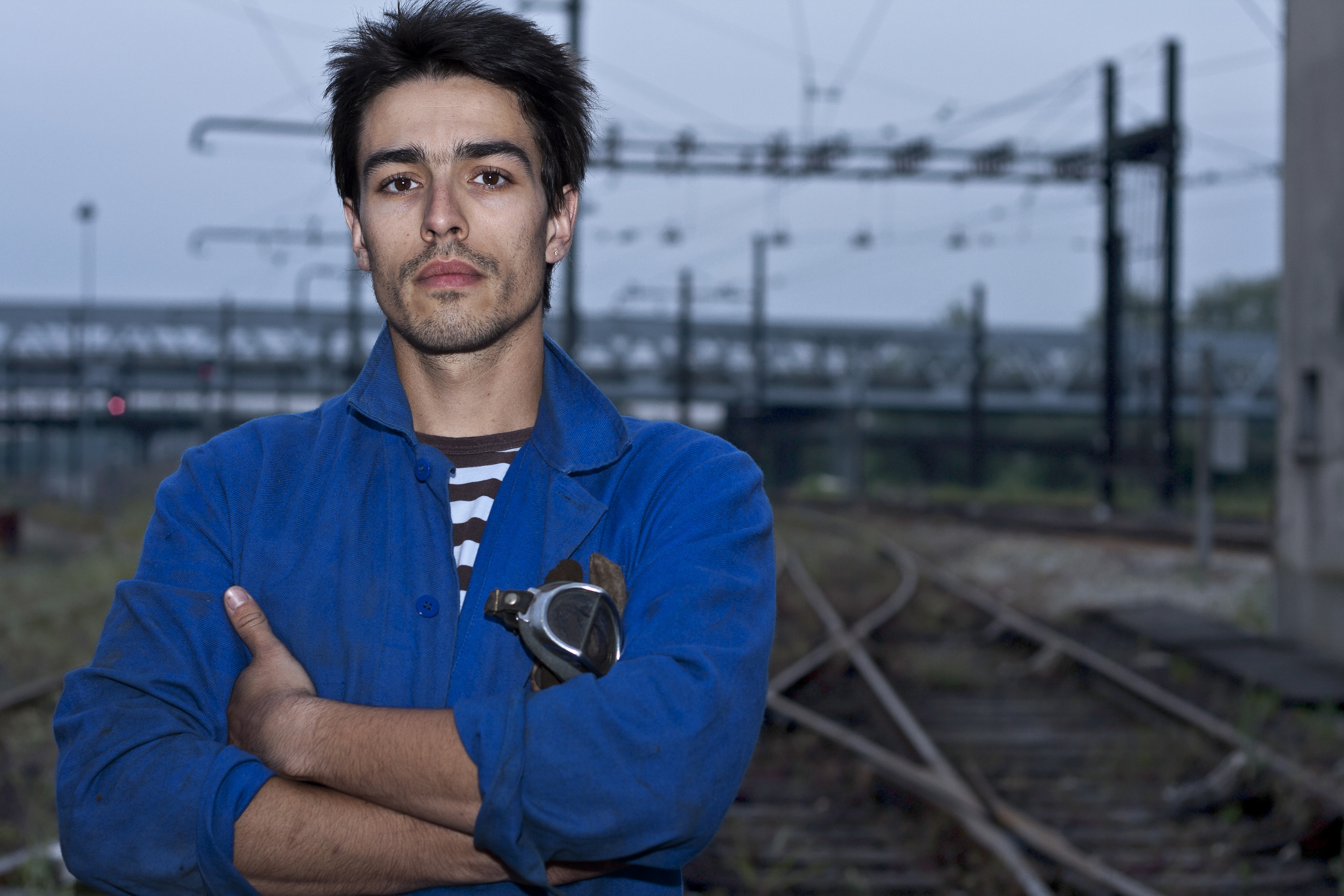 "Michael" – after being released from a Welsh prison, struggled to find work, lost confidence and had become detached from his family and friends. However, whilst trying to find a job Michael heard about the help n-ergy has given to ex-offenders across the country and decided to get in touch.
An n-ergy employability consultant helped with his CV and put him in touch with an agency for rail track work. Michael received funded training from the agency and is now in full-time employment working as a rail worker in South Wales and South West of England. Michael is now looking ahead to a brighter future earning a decent wage with the support of his family. Here is what Michael has to say:
"When I got out of prison I thought my chances of getting a job would be slim to none, at least nothing more than a temporary job. I had next to no support when I was inside but luckily when I got out I found out about n-ergy. I spoke to my consultant and we went through my options. He was very enthusiastic and is a real livewire! I sent n-ergy my CV and it was forwarded to a company they thought would be interested. Within half an hour the company called me and offered me a job. Now it hasn't been plain sailing with this company but my n-ergy consultant has been on hand to lean on and offer his support throughout. Nothing seems too much for him!" [testimonial received July 2015]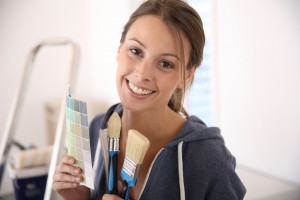 "Kirsty" – whilst serving her sentence at a South West prison, attended a CV writing workshop hosted by n-ergy's employment support team. On release, Kirsty received further support to help her find a permanent job and is now working full-time as a caretaker at a heritage centre in the South West of England. Here is what Kirsty has to say:
"Whilst in prison I met with an n-ergy consultant who helped me to complete a CV. This was really helpful as before this I had no idea how to write one and had no skills in this area!
Since leaving prison I have been receiving help to look for jobs but I wasn't having much luck at interview as unfortunately I didn't have all the skills I needed to get the job I was looking for.
I started off as a volunteer at the Heritage Centre gift shop when I got out of prison to gain more work experience and skills. Then I was offered the opportunity of a paid job as a caretaker taking on a variety of duties to look after the centre's buildings. I had to write an application letter to the employer saying why I should have the job. My n-ergy consultant supported me with this and gave me some tips on how I could make it better which really helped because I got the job!
If it wasn't for the help and support I received from n-ergy I don't think I would have what I have now. I'm glad I registered for their support while I was in prison as I felt it was very useful, knowing I would struggle to find a job on release. Now I have a full time job I couldn't be happier! I think n-ergy is a very good company and should be advertised in more prisons so other offenders can get the help and support needed to help them move on and stop re-offending!" [released from a South West prison in October '14/ testimonial statement received March '15]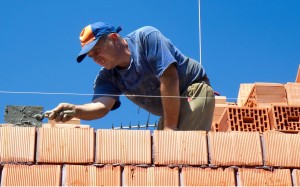 "Kristian" – met with an n-ergy consultant in resettlement a week before his release from a welsh prison who helped him produce a CV and discussed the type of work he was looking for. Kristian wasn't feeling positive about finding work due to serving a 7 year sentence. However, in under a week of release, with n-ergy's support, Kristian was placed into a labouring job and was delighted about his fresh start!
Here is what Kristian has to say: 
"For the first time in my life I've actually received the help I've needed to move forward and progress in life. Signing up with n-ergy helped me perfect my CV which gave me the confidence to apply for jobs. My consultant has been brilliant in helping me secure my first job in years which I'm over the moon about. The support n-ergy has shown me has been amazing." [released from a Wales prison – March 2015]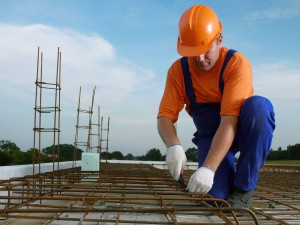 "Lee" – made up his mind whilst in custody to turn his life around and left prison with a renewed sense of purpose and drive to make a fresh start for himself and his family.  Despite his enthusiasm to make things work, Lee found his first three months extremely challenging, experiencing serious financial difficulties amongst many other personal challenges. 
After a referral from Lee's Probation Officer to get in touch with n-ergy, Lee then had n-ergy's support with updating his CV and also his application to gain a CSCS card and help to find work.  By gaining his qualification, n-ergy has helped Lee secure full-time employment as a construction worker in South Wales earning a decent wage. Lee's life is back on track and he is determined to prove himself to his new employer. Lee wrote a long thank you email to n-ergy and here is an extract:
"Before I went to prison I was in a bad place. I was having an impossible time trying to find work without a driving licence and proper qualifications. The pressure of having a small baby and finding out there was another one on the way pushed me towards alcohol as a way to handle my problems and led to me serving a 14 month sentence behind bars!
After a lot of soul searching away from my family, I left prison with a renewed sense of purpose but I must admit the first 3 months after my release were challenging and I was getting no-where until my probation officer put me in touch with n-ergy.
After one phone call, an n-ergy employment consultant helped me to improve my CV and mailed it to some companies. The next day, the consultant got in touch about a job in a factory in Cardiff working 12 hour shifts in a laundry factory for minimum wage. However, after a chat, the consultant was amazed that I was looking for minimum wage jobs when I had the skills and experience to find work as a steel fixer and maybe earn up to £15 per hour.
After overcoming several hurdles including obtaining photo ID and applying for and gaining my CSCS card, I was then in a good position to secure a full-time job working as a steel fixer once again earning £13 per hour sourced by n-ergy.
I'd like to take this opportunity to thank n-ergy for all of the support they gave me to achieve this and would prompt anyone in a similar situation to approach them. I wouldn't have got to this position without n-ergy's guidance and efforts to get me back to work. Thank you. [released from a South Wales prison October 2014 / testimonial letter received March 2015]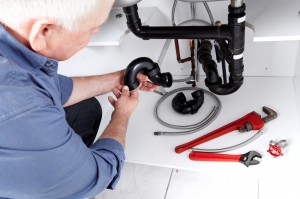 "Darren" is one of our candidates whose life has completely turned around and is now in full-time employment working as a plumber earning a good wage, spending time with his family and is happy! Here is what Darren has to say:
"Along with my previous qualifications I gained NVQ in Customer Relations which has helped me in getting a very good job, I also learnt how to do a correct and up to date CV along with learning about disclosure.
Becoming involved with such people as Lee (n-ergy employability consultant) helped me a great deal, I've now gained what I believe to be probably the best job in the world for me; I work away all over the country Monday to Friday in good hotels and am paid expenses for staying away as well as earning a very good wage!
I'm able to pay bills, got a good girl as a partner, my children in my life, my driving license back, about to move into my own house and more importantly I'm able to sleep well at night with not one concern on my mind! Engaging with n-ergy and people such as Lee helped me to be able to achieve a dramatic life style change and give me such a bright future and positive outlook! I would also like to thank all staff I was helped by at HMP [a South West prison] Thanks, ["Darren" – released Oct '14]
"Paul" one of our learners shares his Learner Journey and success story about how he found employment on release from a prison in the South West of England.
Whilst serving his sentence, Paul enrolled on a vocational training course with n-ergy and successfully achieved a QCF/NVQ qualification in Performing Manufacturing Operations which in turn helped him develop new skills and gave him a renewed sense of purpose. Determined not to re-offend and instead, rebuild his life, one week prior to his release date Paul met with a member of n-ergy's employment support team, Lee.
Paul is now in a permanent job and confident about his future and the new challenges that lay ahead. Paul is passionate about the support he has received from Lee who works in our n-ergy employment support team and sent in a hand-written thank you/testimonial (see below):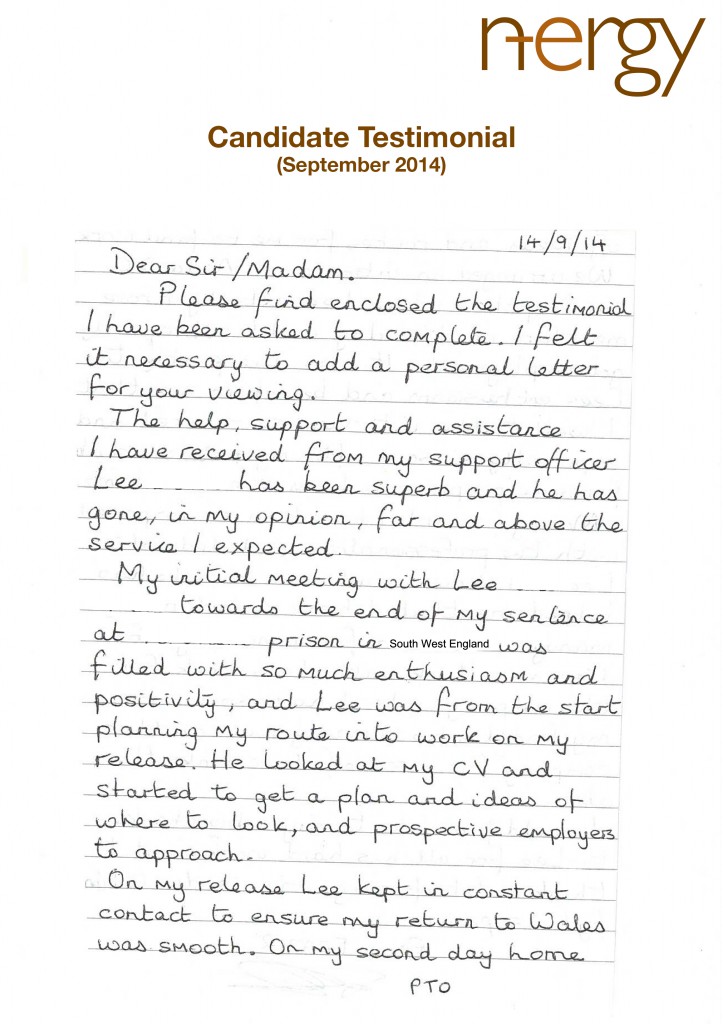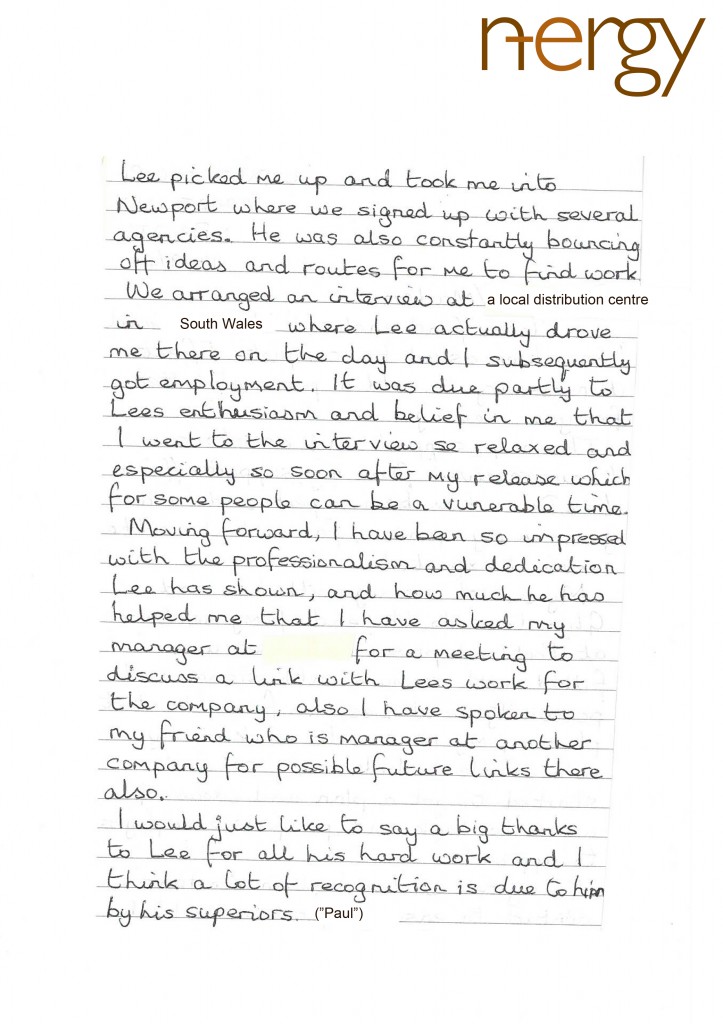 Paul also agreed for us to share his story in our corporate video.
We also receive personally written testimonials from learners who have learnt new skills and gained a vocational qualification whilst in custody, with the help and guidance from our team of regional Training Advisors. If you would like to read our Learner Testimonials and Case Studies, please click here.