n-ergy is delighted to announce it's recertification of The Matrix Standard Award and achievement in maintaining this award for four consecutive years!   The Matrix Standard endorses n-ergy's commitment to its client groups ie. learners in custody and employees, for providing a consistently high standard of delivery of information, advice and guidance (IAG).
The Matrix Standard is the National Quality Mark for any organisation which delivers information, advice and guidance (IAG) to support individuals in their choice of career, work and life goals and is approved by the awarding body emqc ltd.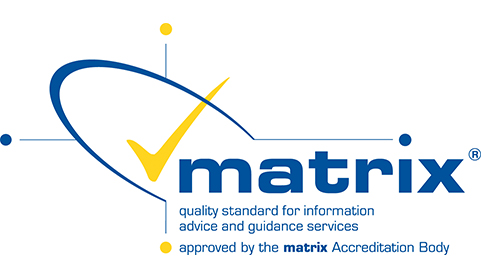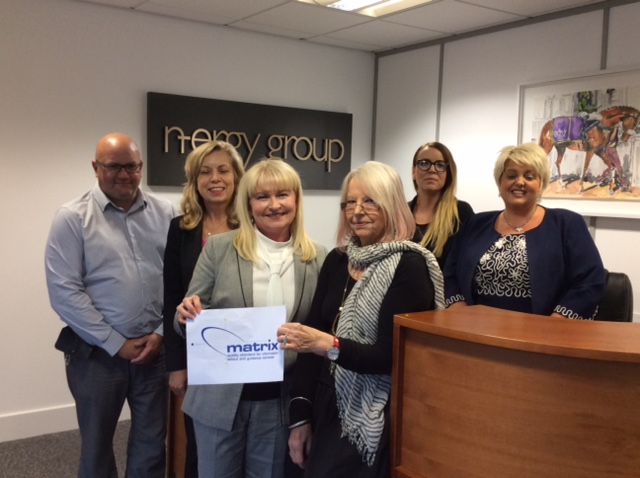 (left to right, behind desk: Sarah O'Mahoney, Tracy Thomas [n-ergy] and left to right, front of desk: Chris Simmons, Trudy Wheeler, Donna Turner-Kot [n-ergy] & our Matrix Assessor from emqc Ltd)
Our Chief Executive, Donna Turner-Kot said,
"Sincere thanks to everyone, especially those who participated in telephone and face to face interviews with our Matrix Assessor. Thanks also to Sarah and Chris for organising and hosting the visits to the prison sites. Our Assessor was |impressed with everyone she met, she particularly mentioned the excellent feedback she received form our partners and prison contacts about the quality of service we deliver and our speed at reacting to requests."
Our Matrix Assessor also commented within the assessment report as follows:
 'n-ergy exceeds the Matrix standard' /  'partner relationships are excellent' / 'there is much evidence of continuous improvement' / 'there is a robust monitoring system in place' and 'company values were clearly demonstrated throughout the assessment'
Within the report, here are some of the partner comments given during the Matrix assessment:
'one of my best partnerships, how they work with us and how they communicate with us' /'we need partners like n-ergy so, so much' / 'the best supplier of services I have ever worked with they never let me down' 'everything delivered by n-ergy is exceptional'
And some comments also from one of our client groups learners in custody:
'they're always there for any support' / 'they took time to help me with my spelling and convinced me to do the course' ' 'they have put me in a better position to get work outside prison' / 'they explained the value of having a certificate when I am looking for a job'
In addition, n-ergy continues to utilise its focus group, PI&IG (Positive Improvement & Impact Group), as a voice for its employees to regularly submit and share ideas that will positively impact on the company and its people.
At n-ergy, we are committed to encouraging our employees at all levels to continue their continuous professional development and currently we have a number of employees undertaking qualifications pertinent to their learning objectives and job roles within the company eg.  CIM (Chartered Institute of Management) Level 7 and IAG level 2.
We are immensely proud to be recognised as a Matrix Standard approved company and again huge thanks to everyone at n-ergy in helping us maintain this award.