Over the last few months, n-ergy has recruited a total of six new training advisors to deliver offender training within the prisons we operate in Wales and South West of England.   Our new starters are all passionate about supporting individuals in custody achieve nationally recognised qualifications that can help our learners secure employment on release and a better future.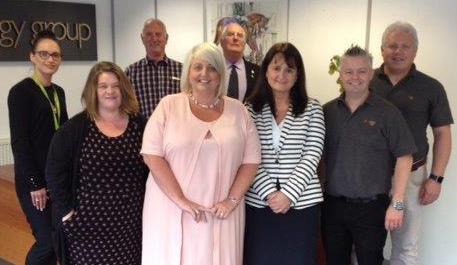 (left to right front row : Kelly Keefe, Hailey Burrows, Tracy Thomas, Jany Shaddick-Williams, Neil Moriarty, Sean Hanson & left to right back row: Chris Rees-Veel, Stephen Brookes)
Tracy Thomas, Head of Central Services, who hosted the company induction for our new recruits earlier this week at our Head Office in Bridgend said,  "The induction went well and it gave a good opportunity for our new regional assessors to meet their colleagues from other areas of the business in addition to the regions. On behalf of us all at n-ergy we extend a warm welcome and wish them our new training advisors every success in their new roles!
Tracy continued, "I am also looking forward to inviting existing employees onto the company induction throughout the year a refresh and a chance to see the improvements made to our new induction programme since they started."
Jany Shaddick-Williams said, "In July, we celebrate our tenth year in business here at n-ergy and we are holding a company Celebrations Day at the end of the month. This will be another opportunity for us all to get together with our regional colleagues and Tracy and I are really looking forward to it!"
Our n-ergy 10th birthday Celebrations Day is organised by n-ergy employees who are members of our Positive Improvement and Impact Group (PI&IG) which will then be followed by a celebration party in the afternoon/ evening hosted by our Executive Board, Donna and Mark Turner-Kot! We can't wait!