n-ergy group is proud to be named as one of Wales' fastest growing companies for a third consecutive year.
The Wales Fast Growth 50 15th Anniversary Celebratory Dinner was held at Holland House, Cardiff on Friday, 4thOctober and Managing Director, Donna Turner-Kot accepted a special award for sustainable growth in recognition of this impressive achievement for n-ergy group.
Wales Fast Growth 50 is a project that has become firmly established as the award that entrepreneurial businesses in Wales aspire to. This year, we are one of 50 companies featured who generated a collective turnover of £492m in 2012 and employed over 5,000 people.
Donna Turner-Kot, Managing Director of n-ergy said,
"It has been a very exciting year for n-ergy as we have taken on additional premises (6,000 square feet of office space) at Charnwood Park, Waterton, Bridgend, and we have doubled our employee number. Our newly launched Commercial Training Division, which has its own training facilities, brings into the company new product offerings, and new market opportunities. This marks another major milestone in n-ergy's continuing expansion."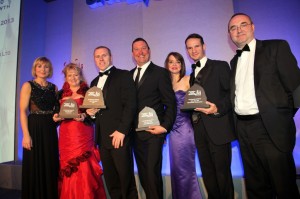 n-ergy is further strengthening its position and has a strong vision and ambitious strategic plans for the next 5 years. Its aim is to grow the business more significantly than before
The main focus of n-ergy's work over the last 6 years has been on the delivery of vocational training and employment support within the offender reform sector. Now it is working with employers nationwide to support their training needs through the provision of accredited work-based learning leadership and management; health, environment and safety programmes; and importantly apprenticeship programmes.
As a rapidly expanding company, n-ergy is impressing all observers and now it's moving into new markets. n-ergy's new Commercial Training division is about to offer high value high performance sales training workshops; and executive management training to FTSE100 companies. New strategic alliances and business partnership agreements will add value to the range of services on offer.
To view recent press coverage please click here – Fast Growth 50 celebrates the best of Welsh entrepreneurship – Wales Online.