At n-ergy, we are passionate advocates of giving ex-offenders a second chance. It is especially rewarding for us to receive personally written testimonials from learners who have learnt new skills and completed a qualification whilst in custody with the help and guidance from our team of regional assessors and view positive comments from our learners in their Learner Exit Interview forms on completion of their qualifications. 
Here are as a selection of learner testimonials and success stories we would like to share with you:
April 2019 – Comments from our learners on completion of their vocational qualifications
"Excellent – The n-ergy Assessor encouraged me and treated me with respect which meant a lot to me, thanks! I enjoyed going through the books supported by my Assessor, thanks to him!"
"Excellent – The Assessor explained everything well and made me feel part of the team."
"Excellent – The course is run excellently and my n-ergy Assessor is a good instructor."
"Excellent – It has been really positive and has helped me. I have learnt loads!"
"Excellent – The help I was given was amazing, I understood everything we went through."
Learner Exit Interview Feedback – March 2019
"Excellent – offer a good choice of courses. Overall a great help to me progressing my career."
"Helpful and friendly towards me, good knowledge and very understanding. Would recommend everyone to do this course."
December 2018 – Feedback from a Learner at G4S Parc Prison who has achieved three vocational qualifications with n-ergy:
Food & Beverage (QCF/NVQ Level 1), and Customer Service (BTEC Level 1) and Cleaning & Support Services (QCF/NVQ Level 2)
This, Mr D states, "he flew through due to the invaluable help with the Customer Service qualification and everything he has learnt and been supported with." Mr D also said that, "all of these qualifications are a good stepping stone for employment on release."
March 2018 –  Feedback from one of our learners in a South West prison who has recently completed his QCF/NVQ qualification in Manufacturing Sewn Products  Level 2.
"The NVQ itself is well worth pursuing. It has the ability to change career paths and open new doors!"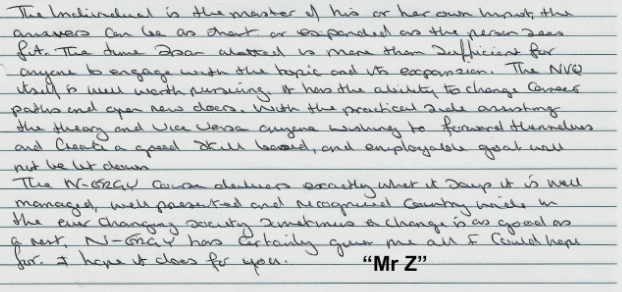 July 2017 – Great comments & feedback written by one of our learners in custody in a South Wales prison about his n-ergy assessor on his Learner Exit Interview form.
"I found the course very informative and enjoyable plus the support from my Assessor was extremely helpful. In experiencing and also witnessing other inmates dealing with the n-ergy Assessors, I can only say that the courses, and people (n-ergy) are very positive and friendly."
May 2017 – Feedback from one of  learners, Mr I,  based at a Midlands Prison who completed QCF/NVQs in both PMO and Warehouse & Storage and wrote a letter into n-ergy. One of his paragraphs is contains a great quote which we would like to highlight below:
"I remember saying once that most people in prison are "losers", but now I know that with your help they can become "achievers". On a final note keep up the good work and I wish you all the best for the future."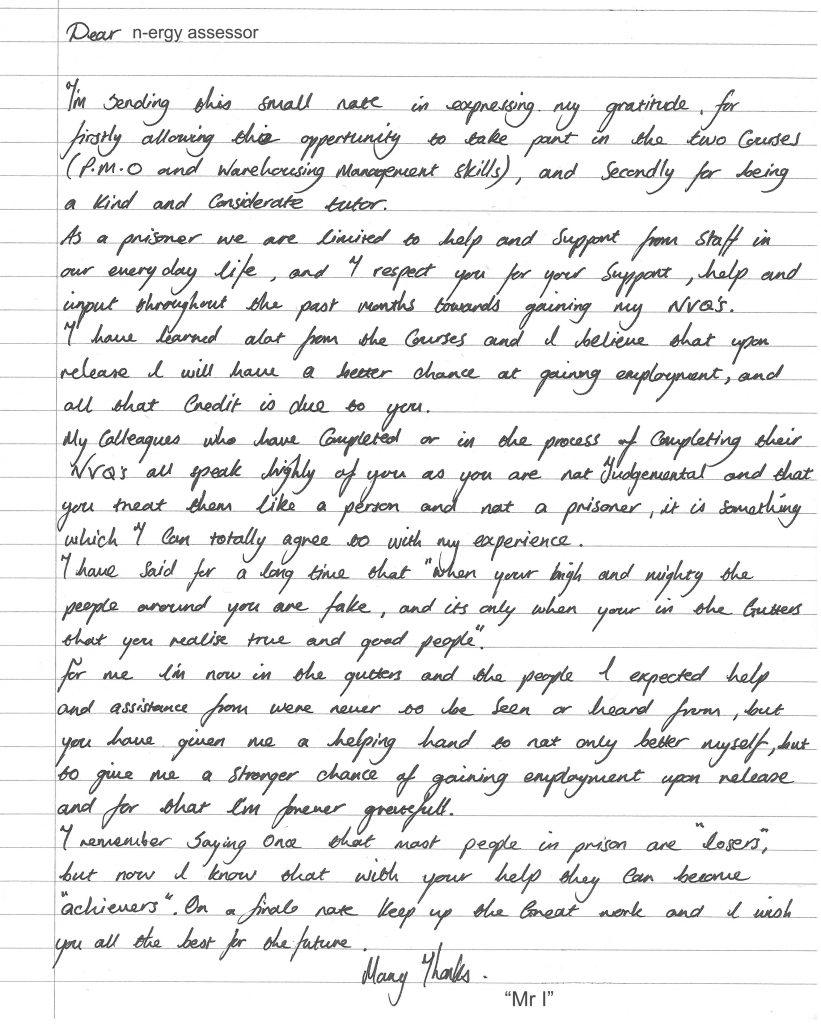 April 2017 –  Feedback from one of our learners in a Midlands prison who gained two QCF/NVQ qualifications with n-ergy, PMO Level 2 and Warehouse & Storage level 2. Our learner "Mr W" has stated in his testimonial letter he wrote and sent into n-ergy, what his achievement means to him.
 "The courses also help men to achieve something that many have not done. It is a progressing pathway for learning and my n-ergy assessor helps some behaviour challenged men achieve something great".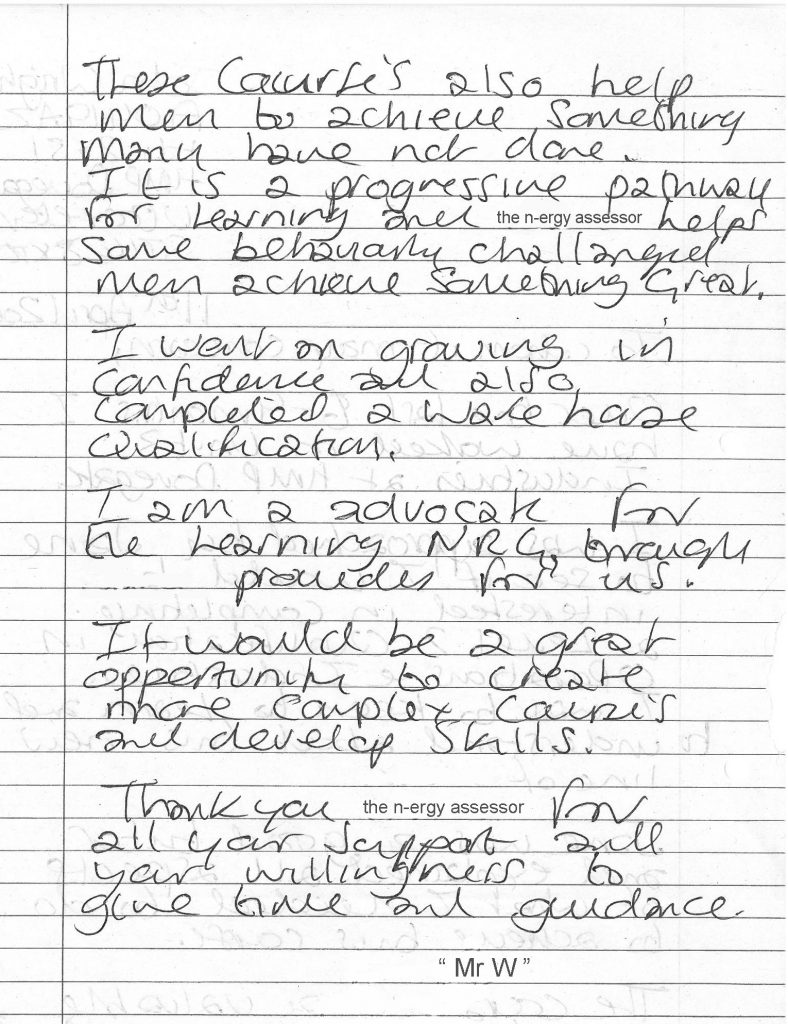 February 2017 – Feedback from one of our learners in custody at a South Wales prison
" I would recommend the course to anyone willing as as it keeps your time constructive and on the right track."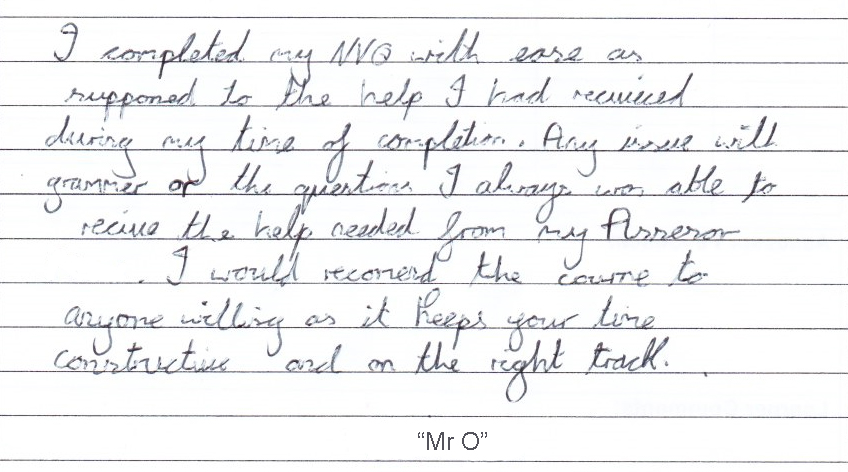 December 2016 –  Feedback from one of our learners in a Midlands prison who has recently completed his QCF/NVQ qualification in PMO Level 2.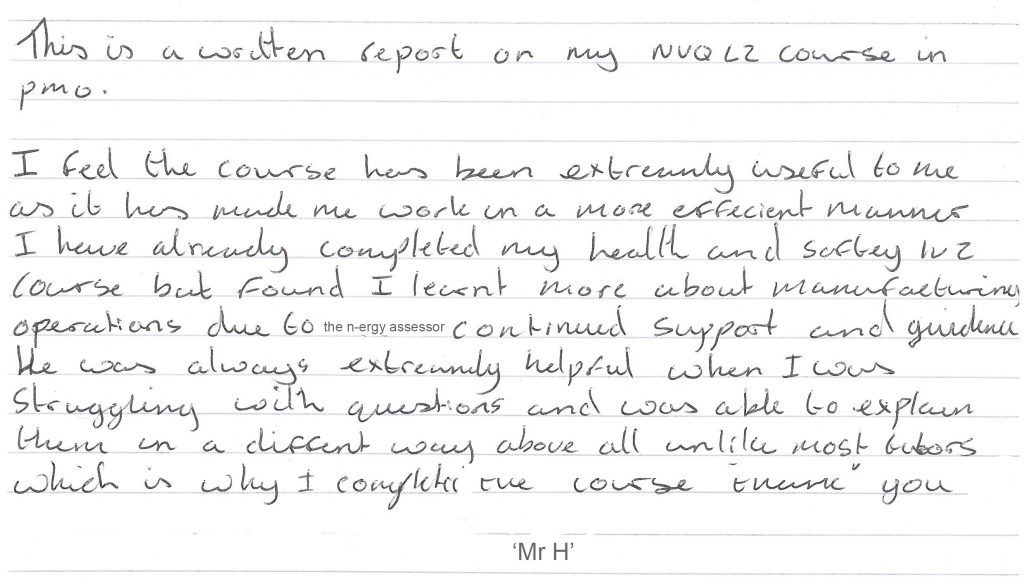 May 2016 – Feedback from from a learner a Midlands Prison who has completed  a BTEC level 1 in Customer Service.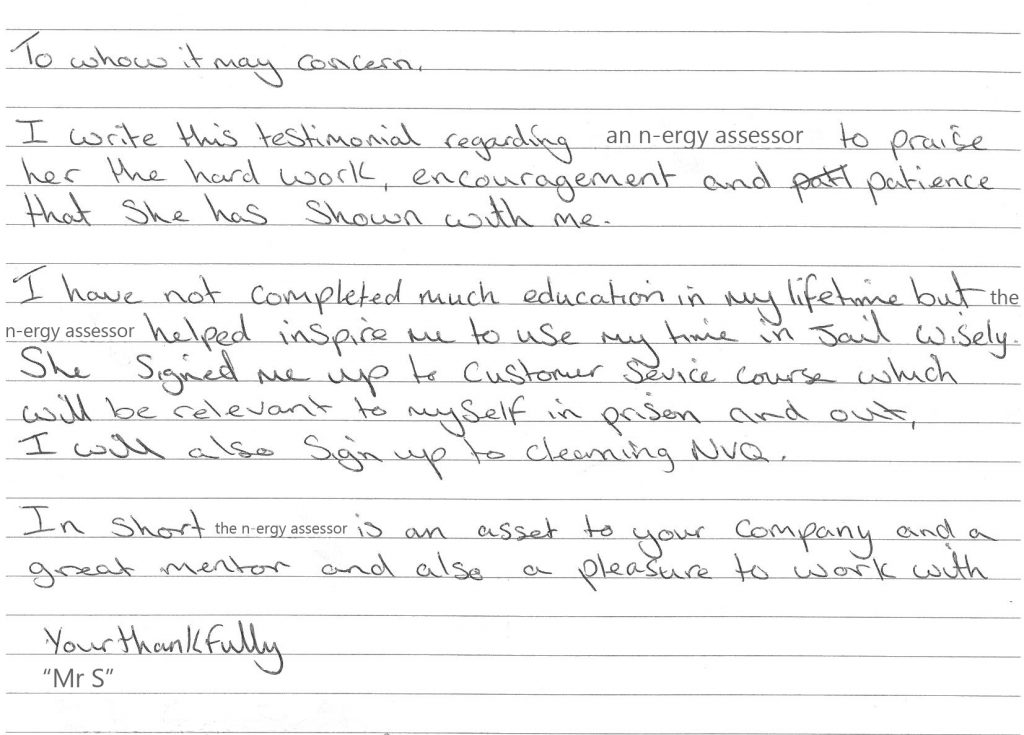 February 2016 – Feedback from a learner in a Midlands Prison who has completed two QCF/NVQ qualifications: Food Preparation & Cooking L1 and Food Production & Cooking L2