Congratulations to all members of n-ergy's Admin Team for completing their Auditor Training last week and were presented with their certificates by Sarah O'Mahoney, Performance Manager – Central Services.   At n-ergy, we believe that employees who are involved in the improvements of the processes are best placed to assist with identifying the areas that need improvement, and to help to test and advance these improvements when they are implemented.
Therefore, our newly trained auditors in our admin team, will assist the Quality & Compliance team headed up by Sarah O'Mahoney, Performance Manager – Central Services, by undertaking internal audits in respect of our company processes and procedures across all areas of our business.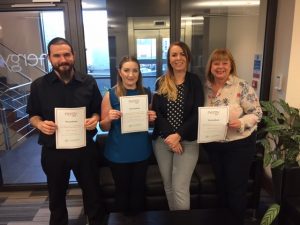 Photo above: left to right (Anton Kot, Sue Authers,Sarah O'Mahoney and Sue Le Breton)
n-ergy's six company values define the set of behaviours that we expect all our people working for our company to embrace towards our colleagues, stakeholder groups and charitable causes and are at the heart of everything we do here at n-ergy.
One of company values is Learning.  Embracing learning, it's that simple. We must always practise what we preach and offer our people the opportunity to learn and develop.
Another company value is Quality: Quality is the foundation of our business.  It drives continual improvement, enabling us to deliver a first class service for our customers.