At n-ergy, we are passionate advocates of giving individuals in custody lifelong learning opportunities and "a second chance" to start afresh within the Adult Education system by enrolling onto one of our vocational training programmes.
Our focus is to help individuals develop new skills and gain nationally recognised qualifications prior to being released.  However, for many individuals, we appreciate that it may take a huge leap of faith to be able to commit to a qualification that may seem an insurmountable challenge; and for many learners, it could be the first time in their lives that they have achieved a formal qualification within the education system!
Our Assessors understand the barriers faced by learners taking on this commitment and at every stage of their Learner Journey, the learner is our prime focus.
Our learners' development and well-being is central to all the activities and assessment practices, information, advice and guidance provided by our delivery team.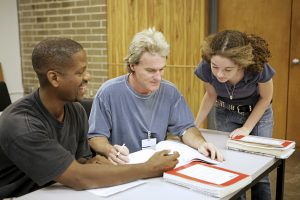 We empower our learners to take responsibility for their own learning and encourage them to set their own goals and targets. In this way, we support and encourage our learners to continue with their Learner Journey on release, with renewed confidence and belief that learning can make a positive difference and impact on their lives.
Here is a testimonial quote from one of our learners who undertook a PMO qualification recently:
"The courses also help men to achieve something that many have not done. It is a progressing pathway for learning and my n-ergy assessor helps some behaviour challenged men achieve something great".
We would also like to share with you one of our learner success stories, written by his n-ergy Assessor.  We will refer to our learner as Mr H:
"Mr H started working in the Wood Assembly workshop and made enquiries about the qualifications available to him.  I explained we ran PMO, Warehousing and storage all at level 2 and customer services for the orderlies.
We discussed what he could do and he explained to me for most of his life he missed out on education by losing a lot of time off school as he was the main carer for his mother and father who both needed caring at home. Mr H dedicated his time to them until his father passed away and then his brother left home making him sole carer for his mother. Unfortunately he told me he got in with a "bad crowd" and he is now on a sentence for drug dealing and usage.
It was then he told me he had to change his life around as his mother was now in full time care and he needed to get some Qualifications to set himself up for employment. Mr H has now completed PMO Diploma at Level 2, producing excellent work and evidence and now wants to start Warehousing and Storage. He has also completed Functional skills English qualifications in addition to qualifications provided by nergy.
Mr H is showing growing confidence in himself and is motivated to turn around his life so he can go back to his family."
Click here to read learner testimonials.
Everyone deserves a second chance and at n-ergy our mission is "To create exceptional learning and development opportunities that empower people and organisations to achieve their goals and aspirations."