Her Majesty's Prison & Probation Services (HMPPS) in Wales launched their inaugural awards event on Wednesday, 6th December 2017 at the Cornerstone, Cardiff City Centre to celebrate success in Welsh Prisons.   The Awards were awarded to staff from HMPPS in Wales for their work with offenders covering their compassion for individuals and public safety.
n-ergy had the privilege of being invited to attend the awards ceremony and to showcase the work n-ergy undertakes within the welsh prisons  "developing individuals and organisations through unlocking potential and transforming lives" and in doing so helping to reduce reoffending.  
Ashley Thomas, Performance Manager – Operations (see photo below – far left) who attended the ceremony and represented n-ergy at this event, said,
"With the negativity on prison violence and failings in the media recently, it was great to witness such an inspirational afternoon celebrating the compassion and exceptional work that happens within welsh prisons.
"One Award Winner was an ex-offender himself and his story was quite gripping. After 30 years in custody, the man quoted that 'at 50, I am finally learning how to live my life properly. He was an inspiration to us all and showed that individuals really can change with the commitment and support from the required organisations."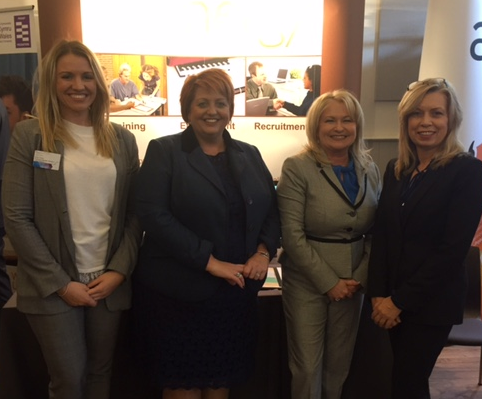 Our Chief Executive, Donna Turner-Kot and Marketing Manager, Trudy Wheeler (see photo above, positioned second from the right and far right respectively) manned the n-ergy display stand at this event and networked with our contacts in Welsh prisons and the Probation Service.
Visitors to our stand that included award winners and their families, viewed learner and candidate testimonials, case study success stories and our wordle project with our learners in custody about What does vocational learning mean to them? 
For further information about our operational presence and performance in Welsh prisons, please get in touch with Ashley Thomas via email athomas@n-ergygroup.com or call 01656 656443.