We regularly receive personally written testimonial letters from our learners on completion of their qualifications, often praising n-ergy assessors for their information, advice and guidance in helping them to achieve.
One of our learners who attends the Textile workshop at a South West prison, has sent in a personal testimony after completing a QCF/NVQ in Manufacturing Sewn Products level 2 in Autumn 2017.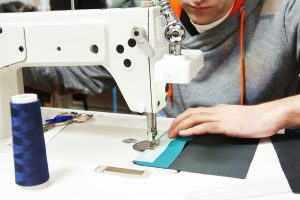 Here is his testimony, in his own words
: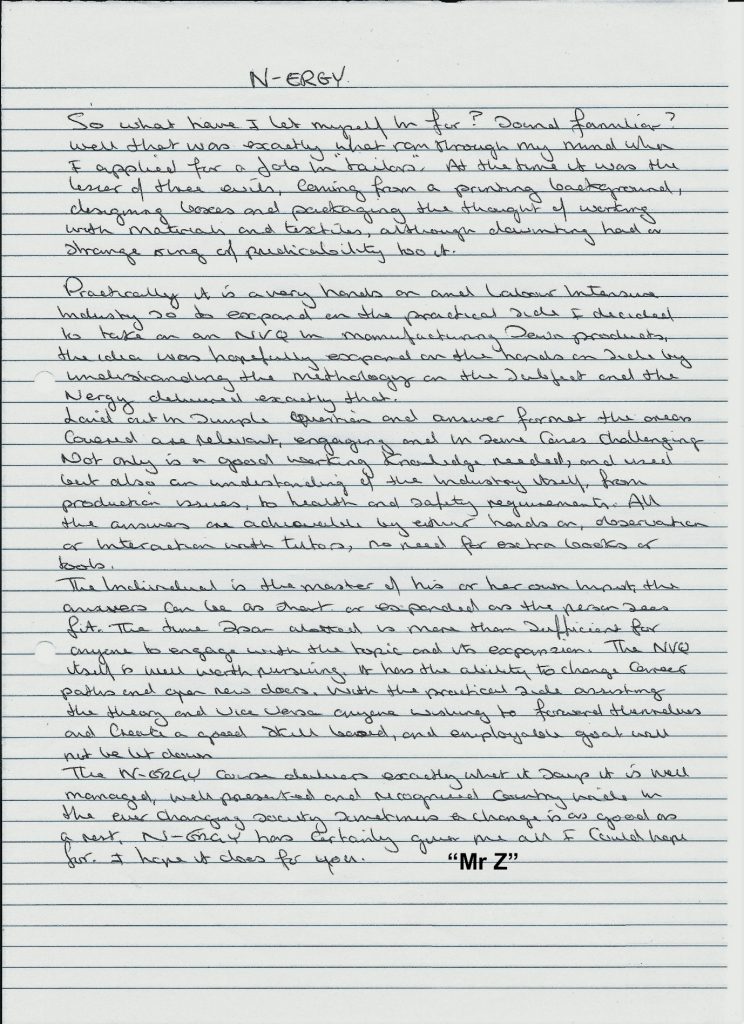 Here is the text written above:
"So what have I let myself in for?  Sound familiar? Well that was exactly what ran through my mind when I applied for a job in "tailors".  At the time, it was the lesser of the evils, coming from a printing background, designing boxes and packaging the thought of working materials and textiles, although daunting had a strange ring of practicality to it.
Practically it is a very hands on and labour intensive industry so to expand on the practical side I decided to take on an NVQ in Manufacturing Sewn Products, the idea was hopefully expand on the hands on side by understanding the methodology on the subject and the n-ergy delivered exactly that.
Laid out in simple, question and answer format the areas covered are relevant, engaging and in some cases challenging. Not only is a good working knowledge needed, and used but also an understanding of the industry itself, from production issues, to health and safety requirements. 
All the answer are achievable by either hands on, observation or interaction with tutors, no need for extra books or tools.
The individual is the master of his or her input, the answers can be as short or expaneded as the person sees fit. The time span allotted is more than sufficient for anyone to engage with the topic and its expansion. The NVQ itself is well worth pursuing. It has the ability to change career paths and open new doors.  With the practical side assisting the theory and vice versa anyone wishing to forward themselves and create a good skill level and employable goal will not be let down.
The n-ergy course delivers exactly what it says it is well managed, well presented and recognised country wide in the ever changing society, sometimes a change is as good as a rest. n-ergy has certainly given me all I could hope for I hope it does for you.
It is especially rewarding to know that our courses are helping our learners to learn new skills, build confidence in their abilities so that they can progess and with the ultimate goal of securing sustainable employment and more recently, Mr Z has continued his prison education with n-ergy and has recently completed a second QCF/NVQ qualification, this time in Performing Manual Operations level 2.
To read more learner feedback click here.