The countdown is on – only one month to go to the Pen-y-FanX5challenge set by our senior management team, Ashley Thomas and Sarah O'Mahoney to support n-ergy's corporate charity Tenovus Cancer Care.   Ashley and Sarah have set themselves an amazing challenge to climb Pen-y-fan five times  in under 12 hours from sunrise to sunset (or before it gets dark!).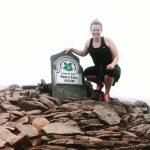 Ash Thomas, Performance Manager-Operations said,
"We have decided to walk (or crawl by the end) Pen-y-fan five times (the hard way up, not the easy way for the people that know what I mean here!  Five times totals 4,463m above sea level and almost 20 miles of walking! All are welcome to come along and join in to support raising monies for Tenovus Cancer Care and who knows, maybe the Pen-y-fanX5 challenge may become an annual event."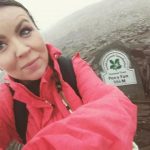 Sarah O'Mahoney, Performance Manager-Central Services
said,
" Ash and I have started our training sessions but still have a bit more training to fit in. I have joined a gym recently and on days when I catch the train to work, I have been walking 6 miles a day. D-day for our challenge is drawing closer so with only one month to go, it will be all systems go now to keep ourselves focused on our goal." 
Our colleagues at Head Office and family/friends of Ash and Sarah are also attending on 4th August to encourage and motivate Ash and Sarah. Some may also embark on at least one climb on the day together with representation from the fundraising team at Tenovus Cancer Care.
How to donate
If you would like to help Ash and Sarah achieve and hopefully exceed their fundraising target for this amazing Welsh cancer charity, who are celebrating their 75th birthday year in 2018, please visit their just giving page  https://www.justgiving.com/fundraising/penyfantimes5

[left to right: Alexandra & Carys (Tenovus Cancer Care), Sarah, Ash & Trudy (n-ergy)]
For more news and updates on how the training is going in the lead up to the #Pen-y-fanX5Challenge, keep your eyes peeled on the following social media accounts:
Twitter                         @nergygroup   @TenovusCancer  @Ash_n-ergygroup
LinkedIn                      n-ergy