n-ergy is delighted to announce its pledge to uphold the key principles of
The Armed Forces Covenant.
 n-ergy has formally registered its pledge with the Ministry of Defence.
n-ergy fully recognises the benefits and value that serving personnel, reservists, veterans and military families can bring to our business and welcomes job applications from ex-armed forces personnel to work within our business.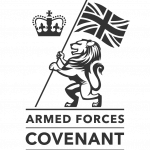 n-ergy acknowledge many ex-forces personnel have undergone nationally recognised and accredited training in technical skills which aligns perfectly with some of the job roles we recruit for and are pertinent to our curriculum offering within custody.  In fact, over the past few years, n-ergy has previously employed eight people with armed forces experience, in a range of different job roles which include: Training Advisor, Internal Quality Assurer and Senior Manager. Our ex-service personnel have worked both in our regional teams across England and Wales and at our Head Office in South Wales. We have also employed individuals who have close family members serving in the armed forces.
Our company recognises that military training develops a number of core skills: self-confidence, determination, teamwork, problem solving, and the ability to work under pressure, skills that we value and actively encourage our employees to utilise in completing their day-to-day tasks and responsibilities.
Since signing The Armed Forces Covenant, it is n-ergy's aim to demonstrate publicly our support to our pledge in as many ways as possible.
If you have any questions about our pledge, please get in touch and email info@n-ergyroup.com, a member of our management team will get back to you. Alternatively, if you are looking for work, please visit our current vacancies page or, send in your CV speculatively to workforus@n-ergygroup.com.