Congratulations to Neil Moriarty, Training Advisor in our Regional Wales Team, on achieving his Level 4 qualification in Leading the Internal Quality Assurance of Assessment Processes and Practice.
Neil, who is a dedicated and experienced Training Advisor and loyal member of the n-ergy family, is passionate about delivering vocational training programmes to learners and helping these individuals achieve qualifications in the prisons we operate, in Wales and England.
However, Neil has a personal goal of his own. Neil would like to work as an Internal Quality Assurer (IQA) within the quality team at n-ergy in the future.
Some months ago, Neil discussed his personal development goal with his line manager, a member of n-ergy's senior management team, who fully supported and encouraged Neil to achieve his goal by gaining a work-based qualification in Internal Quality Assurance.  As a result, Neil has successfully furthered his continuous professional development.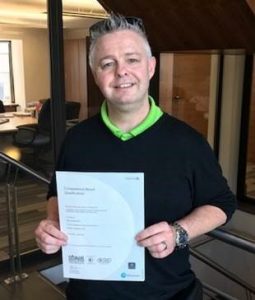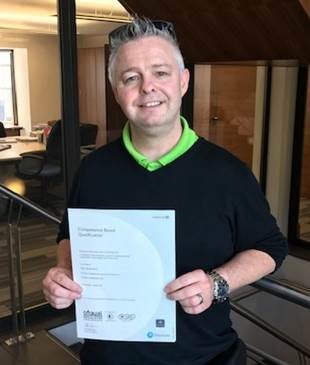 The work-based qualification that Neil undertook is aimed at those individuals who are responsible for quality assuring the work of Vocational Assessors  and  implementing the company's Internal Quality Assurance Strategy.
Neil said, "It is great to be able to carry on learning and gaining new skills with n-ergy and to keep pushing myself to grow within the company.  Great thanks to Jen and Sarah for their support and guidance throughout."
Whilst completing his qualification in Internal Quality  Assurance, Neil was assessed by n-ergy's longest-serving employee, Jen Jones.
Jen has worked in n-ergy's Quality Assurance team over the last twelve years as an IQA and has extensive experience of working as a qualified Vocational Assessor within a wide range of industry sectors.The awarding body's External Assessor from Pearson undertook the final assessment.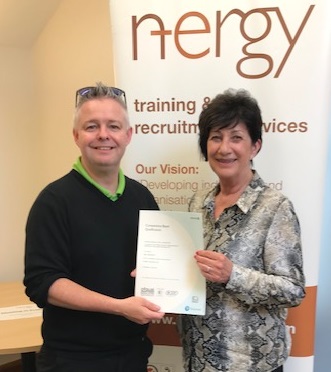 Sarah O'Mahoney, Performance Manager – Central Services said, "One of our company values is to embrace learning; we must always practise what we preach and offer our people the opportunity to learn and develop and I would like to personally congratulate Neil on his successful IQA certification."
Sarah continues, "As advocates of life-long learning, we pro-actively encourage our employees to take up training opportunities and gain further qualifications to support their career aims within n-ergy whether this is to secure promotion or a sideways move in the future."
For further information about n-ergy's current vacancies please click here.