n-ergy is pleased to confirm that it has successfully maintained its matrix Standard accreditation this year!
Donna Turner-Kot, n-ergy's Chief Executive, said, "Well done and thank you again to all involved! It was lovely to catch up with Sue Harding, our matrix Standard Assessor from emqc ltd and she is looking forward to carrying out her full visit next year."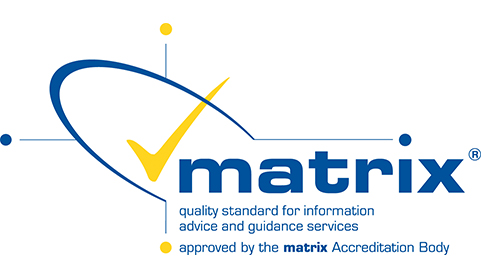 What is the matrix Standard and what does it mean to our business?
The Matrix Standard is the National Quality Mark for any organisation which delivers information, advice and guidance (IAG) to support individuals in their choice of career, work and life goals and is approved by the awarding body emqc ltd.
Successfully maintaining the matrix Standard accreditation demonstrates the commitment shown by everyone working in our company to continuous improvement and confirms that n-ergy meets the criteria for this quality mark for the sixth consecutive year!
Company value: Quality is the foundation of n-ergy's business. It drives continual improvement enabling n-ergy to deliver a first class service for our customers.
Sarah O'Mahoney, Performance Manager, Central Services said, "We are extremely proud of our company's quality management systems which are effective in supporting the highest standards of delivery to all our stakeholder groups."
Company value: Embrace learning, it's that simple. We must always practise what we preach and offer our people the opportunity to learn and develop. 
Sarah continues, "n-ergy are advocates of life-long learning and committed to encouraging our employees at all levels to continue professional development. In-house training continues to play a central role in n-ergy' s development, with several employees completing courses and several underway. We are extremely proud of our colleagues achieving their learning objectives and progressing further within our company and if you would like to read more about about their personal successes click here to view a number of articles on our news blog."